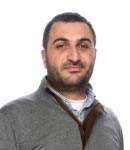 Kakha Magradze joined Gepra in June 2004 as a Consultant and Project Manager, and from 2007 he continued his work in the capacity of a Senior Consultant and Customer Relations Manager. Prior to joining the company, he used to work as a Training Consultant at various non-governmental institutions, as a commercial agent at distribution companies, and as a scriptwriter on Television. He possesses some journalistic experience as well.
In addition to directly working with customers and managing their PR Projects, Kakha Magradze has acquired significant experience in event management, social programs management, branding and strategic planning of communication. Kakha Magradze implemented projects on the development of communication strategies for the Ministries of Justice, Internally Displaced Persons, Accommodation and Refugees, as well as PR and communication strategies for Natakhtari, Unicard, TBC Bank, Borjomi and over 30 Georgian and International companies. He also supervised the Project for the Organizing and Informational Support for the 12th European Day of Organ Donation.
Since 2005 Kakha Magradze delivered about 40 trainings and seminars in PR, modern approaches to communication and PR strategic planning for public officers, business representatives and employees of non-governmental institutions.
He is a lecturer of the Event Management Course since 2007, and of the PR Course since 2009 at the Tbilisi PR School.
Kakha Magradze is the author of a reference book for public officers - Strategic Planning for Successful Public Relations.