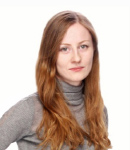 Tamar Giorgadze joined GEPRA in 2007 in the capacity of a Graphic Designer. She graduated from the Faculty of Art at the Tbilisi State Academy of Arts. In 2010 – 2011, she studied for Transmedia Art Masters Program at Hogeschool Sint-Lukas in Brussels.
Her activities in GEPRA encompass the development of firm styles of private and public organizations, including: Tbilisi PR School, Company Address, Ardi Group, Service Agency of the Ministry of Finance, BTL.ge, Obo Oba, BEST Training Center, Developer Company Sonnet.
As a graphic designer she worked on such projects as: Communication Campaigns of HSBS Bank – Georgia, Company Natakhtari, DPA Georgia, Unicard; informational – advertising campaigns for facilitating prevention of avian and swine flu, donation of organs, promoting quarry biodiversity, supporting personal hygiene behavior, food safety and rabies prevention and sales of Microsoft licensed products.