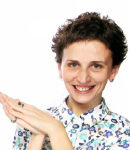 Maia joined GEPRA in 2004.
She graduated from the Faculty of Economy of the Tbilisi State University with a bachelor's degree in Commerce and Marketing. Prior to joining GEPRA she worked in the printing media as a journalist–correspondent in the field of economy.
She has been a Media Consultant of GEPRA since 2005.
Her consulting activities in the company include: organizing media relations for various projects which implies drafting image articles, dissemination and publishing of company news in media, organizing media tours and media contests, as well as conducting media monitoring and social media campaign.
She took part in PR and Communication campaigns of Natakhtari, DPA Georgia, Hoffmann La Roche, Unicard, TBC Bank, Arsi, Borjomi and over 30 Georgian and International companies, as well as in promoting informational – advertising campaigns on personal hygiene behavior, food safety and rabies prevention and informational campaign of Kolkheti National Park.
She also used to supervise Real Capital, supplement to the 24 Saati Newspaper, which used to provide the readers with information on trends and innovations on the Real Estate Market.