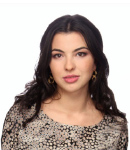 Tinatin Samkurashvili works at GEPRA since 2009. She graduated from the Ivane Javakhishvili Tbilisi State University, faculty of Social and Political Sciences with a specialization in International Journalism. She attended an integrated marketing communication course at GAU Tbilisi PR School in 2008. The successful graduate was offered a 3-month internship by GEPRA. She has been a manager of PR School since 2009.
4 new courses got introduced during her managerial period and new practitioner lecturers were invited; a social media platform was created for the PR School; Tbilisi PR Club got established, celebration for the 20th jubilee group of graduates in PR and marketing communications was organized at the PR School and the first calendar of the PR School was issued.
Tinatin's consulting activities in GEPRA included development of communication strategies for various projects, planning and implementation of communication campaigns, event management in some cases, media monitoring and conducting social media campaigns.
The following activities are distinguished in her working experience:
2009 – Adding a new subject – Social Media to the PR and Integrated Marketing Communications, which was later delivered by herself;
2010 – Development of Marketing Strategy for Marketing Catalogue – 4pm.com.ge and its launch in the same year;
2011 – Management of the Communication Campaign for Heidelbergcement's International Project - Quarry Life Award, by which, based on statistical figures, Georgia showed best results among 18 countries.