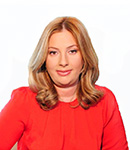 Tamar holds the PMP (Project Management Proffessional, # 1673767) degree from Project Management Institute, 2013 and a Master Certificate in Project Management from George Washington University and ESI, 2012. She also holds a bachelor degree from Tbilisi State Institute of Economic Relations, Faculty of Foreign Economic Affairs, 1999.
Tamar has extensive experience of working in both private and government sectors. For several years she worked for Georgian financial institutions (JSC Bank of Georgia, JSC Liberty Bank) and asset management companies (Abbey Asset Management, Redix). She also held various leading positions at the State Chancellery of the Government of Georgia, Georgia Revenue Service and Investigation Service of Ministry of Finance of Georgia.
Tamar has solid experience in managing projects with local and international partners in Assets Management, State Sector Governance Development, Organizational Development, Infrastructure Development, and other areas.