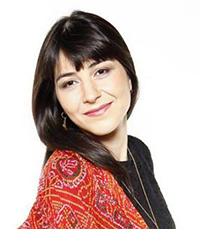 Nino Subeliani joined Gepra as a Senior Consultant and Projects Manager in June 2014. Nino graduated from the Tbilisi State University's faculty of Philology, specializing in Literature Relationships and Translation. In 2012 she upgraded her knowledge in marketing studies in the Netherland's Institute of Marketing, and she holds the dual diploma of NIMA - A and EMSQ (European Marketing Confederation). She has participated in different trainings at Germany in the fields of Communications and Investor Relations, Marketing, Web-mastering, the SharePoint system, Biodiversity management and sustainable development.
Since 2001 Mrs. Subeliani worked both in consulting business and in the NGO and Business sector in fields of project management and marketing communications. Her career development in marketing and PR began at the Institute of Polling and Marketing (IPM).
Since 2007 Nino Subeliani worked as the Commutation Manager at HeidelbergCement Caucasus, where she was responsible for managing long-term communication strategy planning and implementation in concrete and cement business lines. Besides the local projects, Nino implemented HeidelbergCement Group projects covering sustainable development, biodiversity management, corporate policy, information policy and corporate social responsibility. During her 7 years of work period at HeidelbergCement, a lot of challenging and successful projects were implemented, such as: the information campaign and branding of HeidelbergCement's market entrance, website and intranet platform creation, sales promotion campaigns, and etc.
Nino implemented the first grand half marathon in Georgia, branded as TbilisiMarathon. As a national coordinator of the international scientific and educational project "The Quarry Life Award", Mrs. Subeliani showed the best practice (benchmarking) in the communication campaign that was proven by statistics results of public involvement in 18 participying countries worldwide.