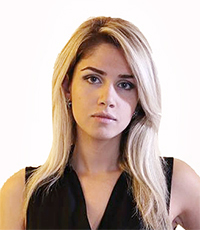 Teona Khmelevski works in GEPRA since 2013.
She graduated from the Ivane Javakhishvili Tbilisi State University's faculty of Social and Political Sciences with a specialization in International Journalism.
Teona has worked in different media on positions of reporting and hosting of the program. Additionally, she has worked in private local and international companies on the position of Public Relations Manager.
At GEPRA, she is involved in various projects. Teona's consulting activities include planning and implementation of communications campaigns and the organizing of different events during the campaigns.
The following activities are distinguished in her working experience:
2013 - Anadolu Medical Center – Organization of the conference for doctors
2013 - Gebruder Weiss – Organization of the grand opening ceremony of the first logistic hub in Georgia
2014 - Wings for Life World Run 2014 – Fundraising and increasing the number of participants, participation in the event organization.
2014 - Huawei Honor 6 launch event organization and management.
2014 - Preparation of the communication campaign and event management for the Brand "Tamada", regarding the French Sommelier's visit to Georgia.